Wearing mens hair just a little bit longer builds adds styling options beyond spiked, messy, or none. The slicked back look has been one of the hottest looks for 2013 and is still going strong. If you want a change, here's
another way to style medium mens hair
.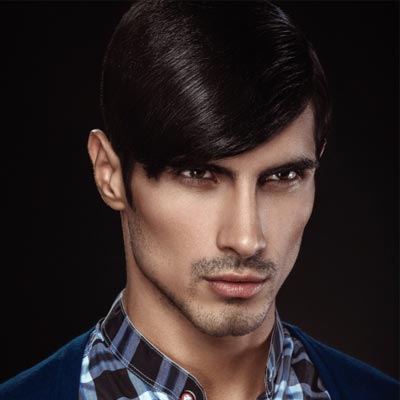 Medium length hair for men means different things to different people. Here, we're talking about inches of length on top with the sides kept short. Growing hair a little longer has benefits beyond additional styles. If thick are coarse
hair tends to stick up
, length is the best solution. Medium hair has more weight to keep hair down as well as get product to work.
A stylish variation of the Mad Men inspired slick hair is wearing fringe down. Hair has the same
deep side part
but is combed down over the forehead rather than back. To get the same sleek finish, use the same pomade product you would with slick hair, like
American Crew Forming Cream
for medium hold and medium shine.
For this every hair in place finish, use a fine tooth comb or even better, boar bristle brush like the handmade
Swissco Oakwood Men's Military Brush
that fits in the palm of the hand for maximum control.